STATEMENT FROM THE CHAIR OF TRUSTEES


Dear Friend,

Transformation. Neither the biggest nor smallest of words, yet a powerful one which perfectly sums up 2018 for Manchester Pride.

The charity made significant progress on its journey of change, to ensure our continued ability to deliver our objectives, delight our end users while maintaining and growing our financial resilience.
At an organisational level, the Board of Trustees approved a new three-year strategy. This strategy affirmed a new vision – to help create a world free of discrimination for LGBT + people – underpinned by a new mission to work with LGBT+ people helping them to live free from discrimination and to feel safe in their own environment.

The strategy was developed after months of research with our users and other stakeholders by the team here at Manchester Pride into what people expected and wanted to see us do. In line with our objectives as a charity, our new roadmap is built on four pillars: to campaign for LGBT+ equality, to stage an annual world-class Pride celebration in Manchester, increase the levels of social engagement and wellbeing through cultural activities for, by and with LGBT+ people across the city-region and to make grants available for LGBT+ good causes locally.

One of the most important things the three year plan looked to address was the long-term viability of Manchester's annual August bank holiday Pride celebrations. Anyone who has visited Manchester city centre recently cannot have failed to notice the pace of commercial and residential development. While more economic activity is to be applauded, the prospect of further development in and around the city's gay village posed a significant risk to our ability to deliver our Pride celebration.

To tackle this, and as part of our new strategy, the Board took probably one of the most transformative decisions in its recent history – to significantly reshape Manchester's Pride celebration. We officially said goodbye to the established format of the Manchester Pride Festival largely happening around Canal Street and approved a bigger event stretching across two locations – the gay village and Mayfield near Piccadilly station.

The Board is absolutely confident this change will deliver a significantly enhanced experience for those who want to attend Pride while managing the risk of further development. It will allow us to up-weight our entertainment by attracting more internationally acclaimed stars while retaining significant activity in the Canal Street neighbourhood, along with the city-centre wide parade and Candlelit Vigil. We look forward to meeting with users and stakeholders over the coming months as we consult on what they'd like to see at the Festival.

While I recognise our decision to adapt the August bank holiday celebration is the most visible way we have transformed this year, the Board has invested a large amount of time in evolving itself to ensure we are best able to steer the organisation.

We took further steps to professionalise ourselves. A six-month governance review was undertaken by trustees with expertise in charity governance and the organisation's chief executive officer to refresh our structures and ways of working to ensure we continued to operate in line with Charity Commission best practice.

The outcome of this was the establishment of a new governance structure made up of Board, Finance and Risk Committee, Performance and Governance Committee and a Fundraising and Grants group. This refreshed structure, backed up with clear delegated powers, will better ensure trustees are able to support the organisation's team to deliver the strategy while enabling appropriate oversight.

Alongside our governance review, a new trustee handbook was created with refreshed policies and ways of working to support the continued operation of the Board and the good governance of the charity.

There can be no doubt that 2018 was indeed a year of transformation for our charity. But our work, indeed our continued existence, would not be possibly without people like you – the thousands of folks who attend our events to celebrate LGBT+ life, our corporate supporters, volunteers, the police and city council, our other charity partners as well as our small and dedicated team of employees. On behalf of all the trustees I would thank to thank you for your continued support. You make what we do possible.

Sincerely,
Paul Wheeler
Chair of Manchester Pride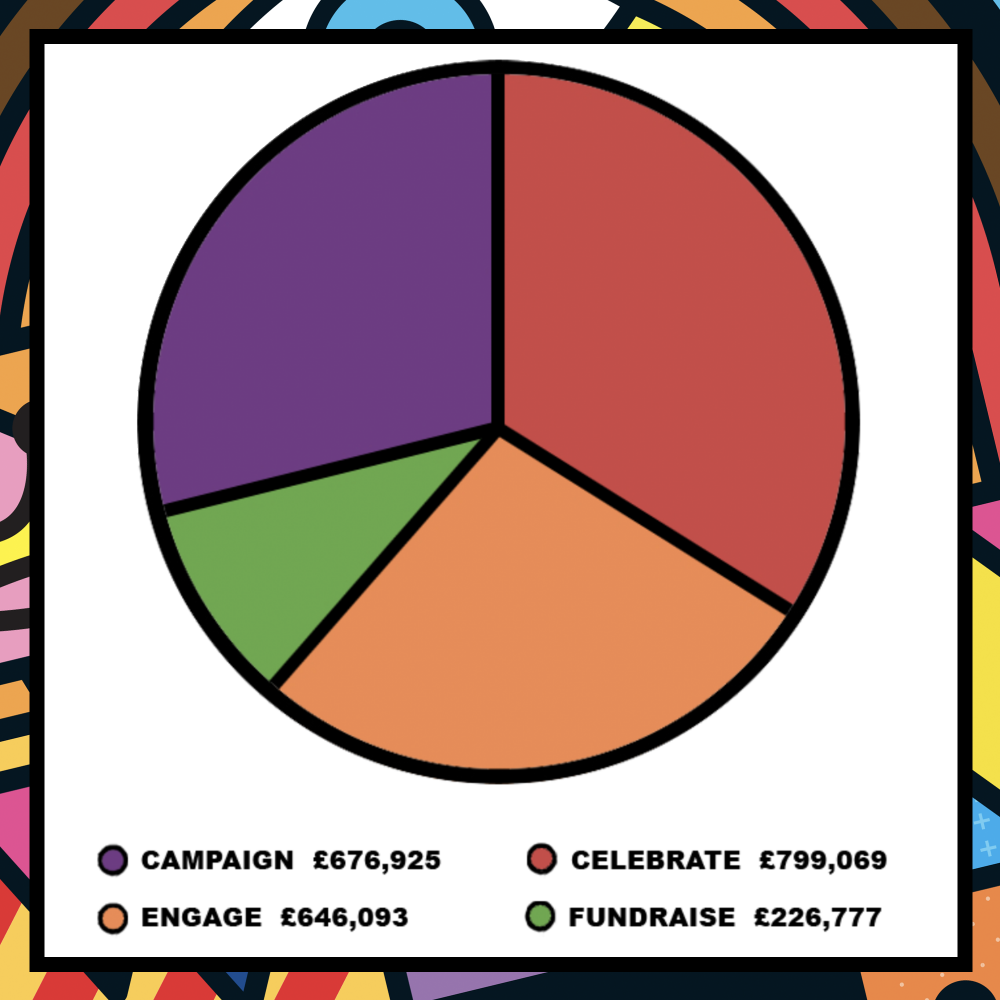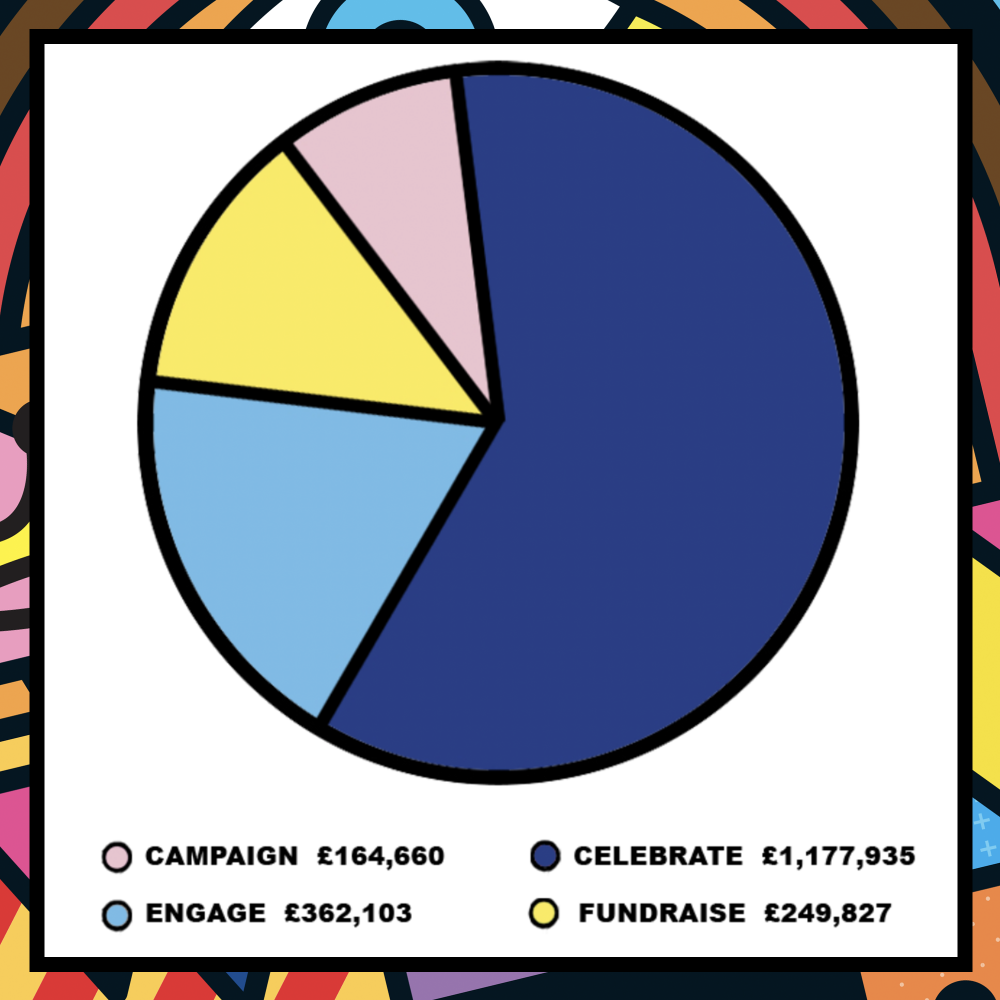 Photography: L: Income | R: Expenditure
INCOME
CAMPAIGN
Sponsorship, Grants, Manchester Pride Festival
£676,925

CELEBRATE
Sponsorship, Grants, Manchester Pride Festival
£799,069

ENGAGE
Sponsorship, Grants, Manchester Pride Festival
£646,093

FUNDRAISE
Donations, Fundraising Events, Sponsorship, Grants, Manchester Pride Festival
£226,777


EXPENDITURE
CAMPAIGN
Marketing and PR, In Kind sponsorship, Safety, Sundry, Governance costs, Support costs
£164,660

CELEBRATE
Artist fees and expenses, Marketing and PR, In Kind sponsorship, Event production, Safety, Box office expenses, Sundry, Insurance, Governance costs, Support costs
£1,177,935

ENGAGE
Grants distributed, Marketing and PR, In Kind sponsorship, Event production, Safety, Sundry, Governance costs, Support costs
£362,103

FUNDRAISE
Artist fees and expenses, Marketing and PR, In Kind sponsorship, Event production, Safety, Box office expenses, Sundry, Governance costs, Support costs
£249,827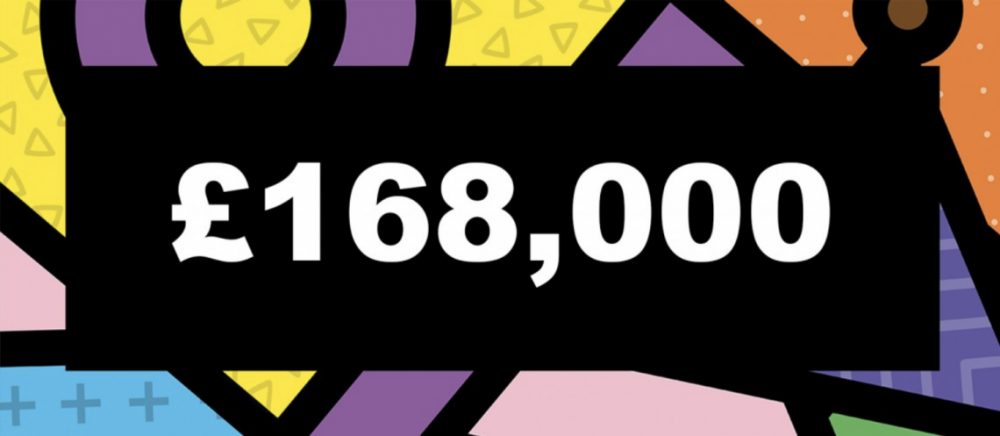 TOTAL AMOUNT FOR DISTRIBUTION IN 2018

As a result of our activities in 2018, £168,000 will be distributed in 2019. Distribution will include grant making through the Manchester Pride Community Grant and Superbia Grant, delivery of Superbia, charity partnerships and initiatives.
CHARITY PARTNERS


LGBT FOUNDATION

Once again, the LGBT Foundation threw open their doors over The Festival offering visitors a place to refresh, recharge and reconnect through a number of community activities and initiatives including a community cafe, a buddy service as well as health and well-being sessions and Young People and Family Space.


GEORGE HOUSE TRUST

Manchester Pride worked closely with George House Trust in the presentation of the Candlelit Vigil at the close of The Manchester Pride Festival. Sackville Gardens was once again transformed into a scene of floating candles as visitors took time to remember those lost to and living with HIV to show solidarity and commitment to combating stigma and the spread of the epidemic.


THE ALBERT KENNEDY TRUST

The Albert Kennedy Trust is the national LGBT youth homelessness charity; focussed on prevention and early action, we provide: safe homes, mentoring, training, advocacy and support to young LGBT people who are homeless or living in a hostile environment after coming out to their parents, caregivers and peers. We believe that no young person should have to choose between a safe home and being who they are.


MANCUNIAN WAY

Stay Safe is a street-based outreach youth project run by Mancunian Way charity which supports and engages disenfranchised young people who are at risk of becoming involved in crime and anti-social behaviour, as well as putting themselves at risk by making poor choices.

They build relationships with young people; listen to their concerns and worries, offer support and signpost to relevant services. And ultimately give them the confidence and tools they need to make positive informed choices that improve their own life outcomes now and into the future. They work at the times of greatest need, in the neighbourhoods of greatest need, with the young people in greatest need.

This isn't easy work; young people do not usually want to be engaged, are suspicious of new faces and feel life has let them down. They purposely seek out these young people. This work usually takes place during the evening or at weekends. You will find them in local parks, on street corners or at locations experiencing youth-related problems or concerns.


THE PROUD TRUST

The Proud Trust is a life-saving and life-enhancing organisation that helps young people empower themselves to make a positive change for themselves and their communities. We do this through youth groups, peer support, managing the LGBT centre for Manchester, delivering of training and events, Campaigns, undertaking research and creating resources.